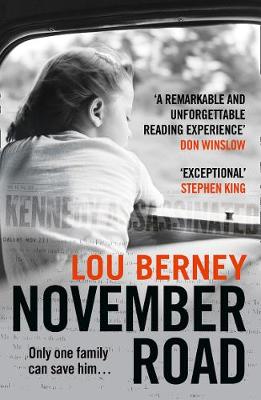 November Road
Lou Berney
Publisher: HarperCollins Publishers
Paperback / Softback
£9.99
Mr B's review
President Kennedy is dead and Frank Guidry, a street lieutenant for the New Orleans mob, knows way too much about the guys who are responsible. Rather than waiting for trouble to find him, Guidry flees, heading west, aiming at Las Vegas and freedom. But his bosses are on his tail and they won't stop until Guidry's mouth is closed for good. A perfectly-paced thriller set against the backdrop of conspiracy in 1960's America.
Description
WINNER OF THE 2020 CWA IAN FLEMING STEEL DAGGER AWARD
WINNER OF THE 2018 HAMMETT PRIZE
'A great read, combining brutal action with a moving love story; gorgeous writing, too' Ian Rankin
'Exceptional' Stephen King
A poignant and evocative crime novel – a story of unexpected connections, daring possibilities, and the hope of second chances.
Frank Guidry's luck has finally run out…
A loyal street lieutenant to New Orleans' mob boss Carlos Marcello, Guidry knows too much about the crime of the century: the assassination of President John F. Kennedy.
Within hours of JFK's murder, everyone with ties to Marcello is turning up dead. Suspecting he's next, Guidry hits the road to Las Vegas. When he spots a beautiful housewife and her two young daughters stranded on the side of the road, he sees the perfect disguise to cover his tracks from the hit men on his trail.
The two strangers share the open road west – and find each other on the way. But Guidry's relentless hunters are closing in on him, and now he doesn't want to just survive, he wants to really live, maybe for the first time.
Everyone's expendable, or they should be, but Guidry just can't throw away the woman he's come to love. And it might get them both killed.
Publisher Review
`A great read, combining brutal action with a moving love story; gorgeous writing, too. No Country For Old Men would be my comparison' Ian Rankin
`When people say they want to read a really good novel, the kind you just can't put down, this is the kind of book they mean. Exceptional' Stephen King
`Moving, wonderfully written and really scary' Nicci French
`One of the most remarkable novels of the year … poignant, bittersweet, and unforgettable' Daily Mail
`Sharp, clever and precise … beneath the sparkling surface there's real emotional heft … Berney is well on his way to becoming an American crime great' Metro
`Shows that the Kennedy assassination remains fertile ground – conspiracy theory meets a bittersweet love story' Val McDermid
`Berney's prose is impeccable, his characters are brilliantly drawn' Spectator
`Nothing less than an instant American classic. Haunting, thrilling – and indelible as a scar' A. J. Finn
`A remarkable and unforgettable reading experience. This tense and riveting thriller is a deeply moving love story. It will stay with you long after you read the final page. You will recommend it to friends. This is a staggeringly brilliant book and a flat-out terrific read' Don Winslow
`One of the most distinctive, unexpected crime novels of recent years' Washington Post
`November Road reads like a long lost Jim Thomson masterpiece, it really is that good. Best book I've read all year' Simon Toyne
`A fantastic blend of hurtling thriller and heart-breaking noir … It's immensely gripping, incredibly moving and superbly written' Stav Sherez
`Berney proves beyond doubt that he's one of the most talented crime novelists working today' Megan Abbott
`A quietly subversive writer who can surprise the most jaded readers. November Road delivers everything we have come to expect from him – and then some' Laura Lippman
`One of my favourite novels of 2018 … Lou Berney's masterpiece' Adrian McKinty
Find this book on the following lists
Book experts at your service
What are you looking for?